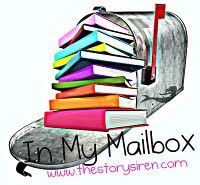 Il y a 2 semaines, j'ai profité de la réduction de 10% chez Bookdepository pour passer une chite commande ^^ Voilà qui fait augmenter dangereusement ma PAL vo…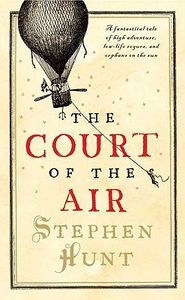 Jackelian, book 1: The Court of the Air, Stephen HUNT
When streetwise Molly Templar witnesses a brutal murder at the brothel she has recently been apprenticed to, her first instinct is to run back to the poorhouse where she grew up. But there she finds her fellow orphans butchered, and it slowly dawns on her that she was the real target of the attack. For Molly is a special little girl, and she carries a secret that marks her out for destruction by enemies of the state.
Oliver Brooks has led a sheltered existence in the backwater home of his merchant uncle. But when he is framed for his only relative's murder he is forced to flee for his life, accompanied by an agent of the mysterious Court of the Air. Chased across the country, Oliver finds himself in the company of thieves, outlaws and spies, and gradually learns more about the secret that has blighted his life.
Soon Molly and Oliver will find themselves battling a grave threat to civilization, an ancient power thought to have been quelled millennia ago. Their enemies are ruthless and myriad, but the two orphans are also aided by indomitable friends in this endlessly inventive tale full of drama, intrigue, and adventure.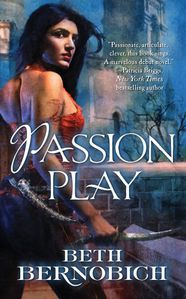 River of Souls, book 1: Passion Play, Beth BERNOBICH
The daughter of one of Melnek's more prominent merchants, Ilse Zhalina has lived most of her life surrounded by the trappings of wealth and privilege. She has wanted for nothing and many would consider her lot a most happy one. But there are dark secrets even in the best of families and Isle and the women in her family have learned that to be beautiful and silent is the best way to survive.
However, when Ilse fianlly meets the colleague of her father's selected to marry her, she realizes that this man would lock in her a gilded cage. In her soul, she knows he is far crueler and more deadly than her father could ever be.
Ilse chooses to run from this life. Her choice will have devastating consequences and she will never be the same.
But she will meet Raul Kosenmark, a man of mystery who is the master of one of the land's most notorious pleasure houses.and who is, as Ilse discovers, a puppetmaster of a different sort altogether. Together they will embark on a journey that will reshape their world.
The Veiled Worlds, book 1: Debris , Joanne ANDERTON
Tanyana is among the highest ranking in her far-future society – a skilled pionner, able to use a mixture of ritual and innate talent to manipulate the particles that hold all matter together. But an accident brings her life crashing down around her ears. She is cast down amongst the lowest of the low, little more than a garbage collector. But who did this to her, and for what sinister purpose? Her quest to find out will take her to parts of the city she never knew existed, and open the door to a world she could never have imagined.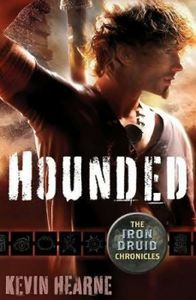 Iron Druid Chronicles, book 1: Hounded, Kevin HEARNE
Atticus O'Sullivan, last of the Druids, lives peacefully in Arizona, running an occult bookshop and shape-shifting in his spare time to hunt with his Irish wolfhound. His neighbors and customers think that this handsome, tattooed Irish dude is about twenty-one years old - when in actuality, he's twenty-one centuries old. Not to mention: He draws his power from the earth, possesses a sharp wit, and wields an even sharper magical sword known as Fragarach, the Answerer.
Unfortunately, a very angry Celtic god wants that sword, and he's hounded Atticus for centuries. Now the determined deity has tracked him down, and Atticus will need all his power - plus the help of a seductive goddess of death, his vampire and werewolf team of attorneys, a sexy bartender possessed by a Hindu witch, and some good old-fashioned luck of the Irish - to kick some Celtic arse and deliver himself from evil.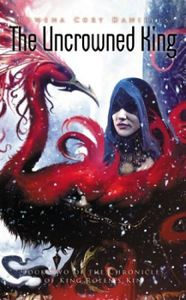 The Chronicles of King Rolen's Kin, book 2: The Uncrowned King, Rowena CORY DANIELLS
Rolencia's ancestry enemy, Merofynia, has invaded and marches on King Rolen's castle. Powerless to help, thirteen yeard old Piro watches as her father, King Rolen, listens to poisoned whispers against Bryen. How could the King doubt his second son? Determined to prove his loyalty, Bryen races across the path of the advancing army to ask the Abbot to send the warriors monks in defence of the castle.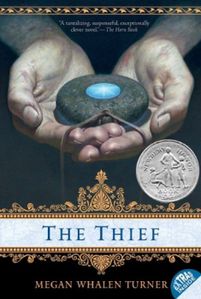 Attolia, book 1: The thief, Megan WHALEN TURNER
The King's magus believes he knows the site of an ancient treasure - Hamiathe's Gift. To attain it, he needs a skillful thief and he selects Gen from the King's prison. The magus is only interested in the thief's abilities; what Gen is interested in is anyone's guess. A likeable rogue, Gen endures the difficult trek with much complaining and little grace, but shows his mettle when he steals the Gift twice and risks his life for his companions.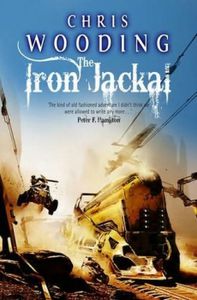 Tales of the Ketty Jay, book 3: The Iron Jackal, Chris WOODING
Vardia is descending into chaos. It's a great time to be a freebooter. The Archduke has evidence that incriminactes the Awakeners, a powerful religious sect, and he's determined to use it to bring them down. If they don't surrender their Imperators - half-confessor, half-inquistor, and just possibly half-daemon as well - then he has threatened to ban their religion, and have their Imperators executed on sight. But that Awakeners won't give up without a fight, half the country is on their side, and there's more than a hint of civil war in the air. Never one to miss an opportunity, Captain Darien Frey has hit on a lucrative plan: robbing Awakener temples, and selling their relics back to them through the feared pirate, and former finacee, Trinica Dracken. Things are finally looking good for the Ketty Jay and her crew! ...until the Shaklemores, bounty hunters to the artistocracy, catch up with them, anyway. They kidnap Crake, one of Frey's most valued crewmen, and vanish with him. Crake is wanted for murder - he has been for years - but is his kidnapping in the name of justice or is something altogether more sinister going on behind the scenes? If Captain Frey wants his man back, he and the Ketty Jay are going to have to find out - even if the quest leads them into the heart of the civil war, to the treason and invasion threat beyond.
Mes conversations avec les tueurs, Stéphane BOURGOIN
"Cela fait trente ans que j'interroge les serial killers. J'ai rencontré plus de soixante-dix de ces tueurs et tueuses multirécidivistes aux quatre coins de la planète. J'ai accumulé des ouvrages de criminologie, journaux de faits divers, archives de police, photos et vidéos de scènes de crimes, confessions, dessins et écrits.
Dans mes livres, j'ai toujours présenté les serial killers de manière distanciée, sans porter le moindre jugement ni faire part de mon ressenti. Dans Mes conversations avec les tueurs, je désire vous faire partager l'envers du décor. Vous montrez l'épreuve physique de ces rencontres, les moments d'angoisse qui précèdent les entretiens, la peur, parfois. Vingt ans plus tard, mon corps se souvient encore de la terreur qui s'est emparée de moi lors de ma rencontre avec Gerard Schaefer, un ex-policier accusé du meurtre de 34 femmes en Floride. Dès l'instant où je me suis trouvé face à lui, j'ai eu le sentiment d'être confronté au Mal absolu.
Je suis préparé, mentalement, à rencontrer ces "personnages" plus ou moins hors du commun. Mais à mon retour à Paris, je me demande parfois si ces voyages ont eu lieu. Oui, ils sont bien réels. Et incroyables."
Une surprise dans ma boite aux lettres, avec une dédicace en plus, j'étais ravie !